---
City of Stonnington — Report PDF (Download)
The ground water bore constructed in Victoria Gardens during the drought in 2008 was found to yield water too salty for irrigation purposes and therefore a desalination unit was installed by Aqueous Solutions early in 2010.
Desalination System Requirements: A system that will produce 20,000 litres per day of fresh water, a pump test bore water flow rate of 1290 litres per hour feed.
Operation: To include pre-treatment with the bore water will be fed directly to a backwashing media filter containing gravel and ultra fine media. This process step will remove the larger solids (>5m approximately) from the feed stream. Following the coarse solids filtration, the water will pass through 3 stages of cartridge filtration to eliminate all sediment material.
Reverse Osmosis Unit: A reverse osmosis desalination system capable of generating approx 20,000 litres of permeate water per 24 hour day. As the bore water enters the reverse osmosis plant, antiscalant chemical is dosed automatically into the feed stream via a small dosing tank and metering pump. The reverse osmosis desalination system operates under full automatic control and run unattended (with minimal operator input) during normal operation. Normal operator attention includes periodic topping up the antiscalant chemical dosing tank, changing the cartridge filters and monitoring operating parameters. An automatic flushing system is included to ensure that the unit can remain idle for several days or weeks without issue. This process is automatically initiated upon shut down of the system and will help to maintain membrane life. Provision for the shutdown of the unit for extended periods of more than a month where the system is flushed with a preservative solution. A service contract to service, clean and maintain the unit on a programmed regular basis is required.
Equipment Requirements
The following or equivalent equipment is required for the set up of a desalination system in Victoria Gardens, Prahran.
Bore Pump Requirements: Bore shall be designed and constructed to offer long life and reliable service in harsh bore environments shall be used. It shall have the following characteristics:
Phase 3 power supply will be available to run the desalination system and associated pumps.
Variable speed drive for optimum power usage and water control.
Airline for water level monitoring
Bore cap, poly riser, stainless steel safety cable.
Pretreatment Equipment
Fibreglass media filtration vessel
Control valve to fully automate back wash of filter bed
Fine filtration media
Gravel packing for distributor
Pre Filters
Certified quality cartridge filters.
Reverse Osmosis Skid
Stainless Steel frame.
Stainless steel, multistage centrifugal high pressure pump.
Bore flush system on start-up.
2 x automatic flush valves to provide automatic membrane flush on start-up and shutdown.
Membranes to be flushed with permeate water on shutdown to ensure that no brine sits stagnant on membranes to cause fouling
PLC or equivalent control box which has standard features such as level control, flush system, pump protection and automatic plant functions
6 x Membranes
3x Fibreglass Pressure vessels rated to 300 psi
Instruments to include solenoid valves, conversion valve, panel mounted pressure gauges, variable area flow meters, level switches, panel mounted conductivity meter
Pipework: low pressure side ABS plastic and high pressure stainless steel and or ABS 
Cleaning tank and CIP cleaning system
Flush Pump & Control
Stainless steel single phase centrifugal pump capable of producing 350kPa at 30lpm for flush.
Press control to control pump operation (pressure/flow control system)
400l flush tank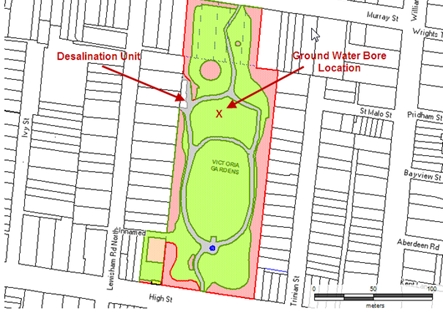 Bore Water Analysis